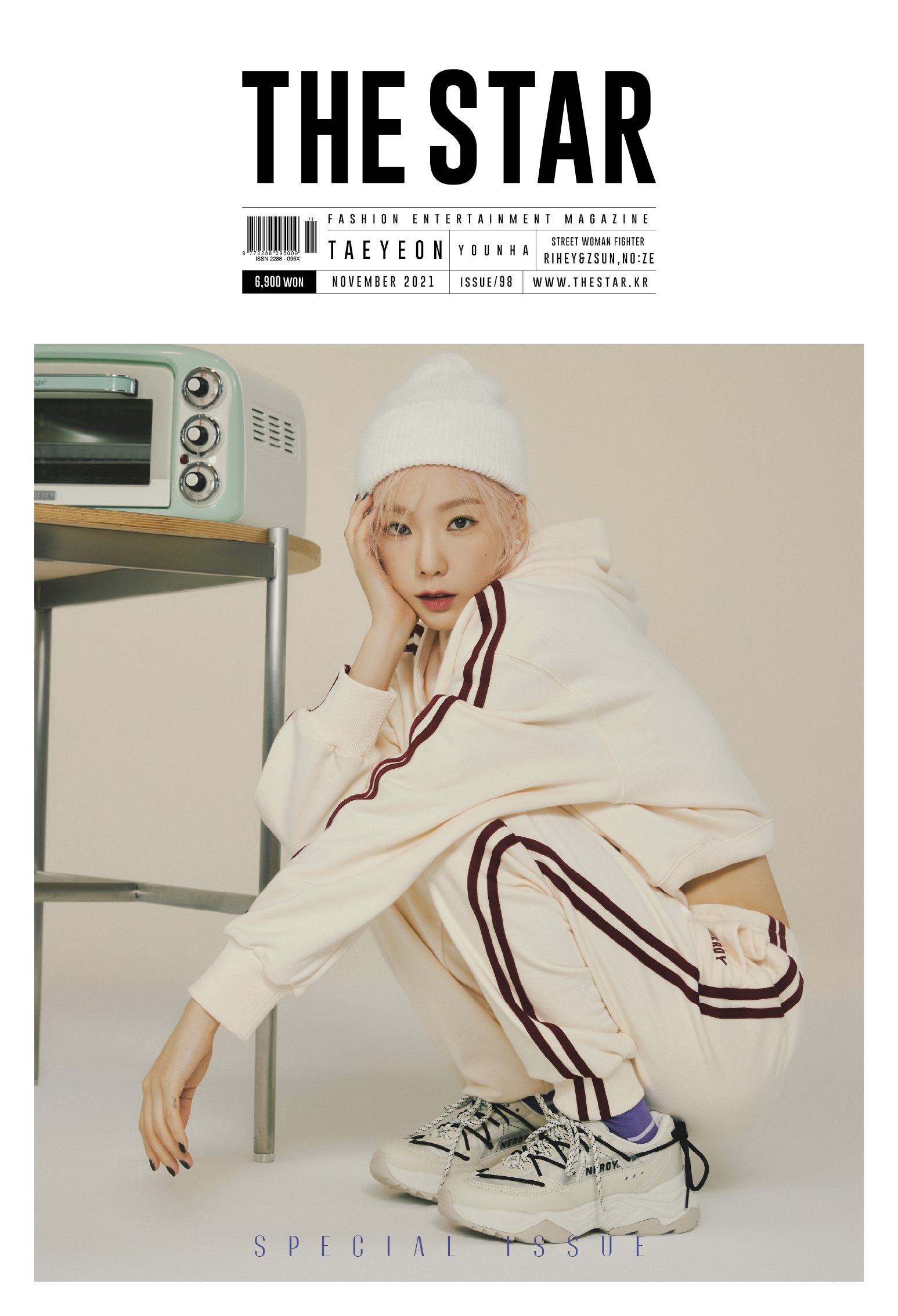 MAKE YOUR WAY (NERDY x TAEYEON)
"The person who loves herself, is considerate of others and knows how to generously express herself. A casual and unwavering woman. The talk we had with her was short but every answer is filled with sincerity."
THE STAR: You were the first model chosen for the contemporary street brand 'NERDY'. I thought it was unexpected, but seeing the result it suits you like no other. How do you feel about collaborating with NERDY?
TAEYEON: Usually, I personally enjoyed wearing this brand, so I was glad I was offered to be their ambassador. I think the advantage of NERDY is their young and hip vibe.
THE STAR: What is Taeyeon's 'PICK' from NERDY and can you give us a tip on how to wear it in a cooler way in our daily life?
TAEYEON: I like to match the leggings with a loose-fitted hoodie and wearing a tight-fitted crop top or a bra top with tracksuit pants.
THE STAR: The Y2K (Year 2000) style and the make-up from the recent album you released (Weekend) was a hit. How much do you participate in the overall visual works such as the album concept, music video, etc.?
TAEYEON: The staff and I always discuss the colour of the album together. After listening to the music, I sometimes suggest make-up or hairstyles that come to mind beforehand.
THE STAR: What is a way for Taeyeon to get inspired?
TAEYEON: By imagining a lot and creating an image in my mind when watching a movie or a drama.
THE STAR: Not long ago, you celebrated the 6th anniversary for your solo debut. You are called the 'Digital Queen' and 'MidDeutTaeng' (Trust and Listen to Taeyeon), what's the power that Tayeon has as a singer?
TAEYEON: I heard that many people feel comfort and empathy from my music (Laughs).
THE STAR: You always show the way of communicating with the fans, such as going on live on SNS. What do the fans mean to you and what do you want to desperately do with them?
TAEYEON: [They are] my driving force and the reason I can continue doing music. I move for the fans who are waiting and looking forward to me.
THE STAR: You have a great experience on radio broadcasting and appearing on entertainment shows. I somehow was looking forward to seeing Taeyeon hosting a music program one day. Is there a part or activity that you want to challenge yourself to try?
TAEYEON: I like communicating, so I want to try out being an MC. Also, I want to try being a DJ on radio if I have the right schedule to do so.
THE STAR: The title of Taeyeon 'Professional Homebody' that everyone knows. How is your daily routine or schedule?
TAEYEON: Recently, I'm always working on my schedule for preparing my new album. Exercising whenever I have time and trying to eat less for dinner.
THE STAR: A hobby that you are recently into?
TAEYEON: Collecting stationery.
THE STAR: Now, Girls' Generation is a representative girl group of Korea, but also someone's role model that they look up to by calling them unnies (older sisters). Was there pressure or responsibility for being the leader of the group?
TAEYEON: During my activities as part of Girls' Generation, I considered that the pressure and the responsibility will continue on in life. It is right for me to feel that way.
THE STAR: You have certainly become more stable and stronger than before. What was the biggest cause of this change?
TAEYEON: Because I was much unstable and weaker before, I am now able to control myself. The experiences and the time that has passed have brought me here. As I love myself more now, my mind is calmer.
THE STAR: What's one of your personality traits that people don't know?
TAEYEON: I'm not the type of person that really enjoys noisy environments, but I love chatting with people (Laughs).
THE STAR: As the time goes by, are you loving yourself more and more?
TAEYEON: Yes. That's the way to give and receive love as well.
THE STAR: What is the 'love' that you dream of?
TAEYEON: Consideration of others. Of people always considering and taking care of eachother.
THE STAR: You focus on the present more right? What's the most important value for Taeyeon right now?
TAEYEON: Firstly, give your best to the ones who are alive. Secondly, enjoy as much as you can, whenever you can. Lastly, express as much as you can without hesitation, whenever you can!
THE STAR: If you were to introduce yourself to someone that doesn't know anything about you, how would you do it?
TAEYEON: The questions are getting harder (Laughs). I'll introduce myself as 'a dog mom raising a silver poodle'.
THE STAR: From now on, what kind of a person, singer, or artist do you want to be?
TAEYEON: A person that others are always curious about, a singer that someone always looks for, and the one and only artist to someone.
THE STAR: Three things from your bucket list that you want to tick off before the year goes past?
TAEYEON: Adapting to the place of Kwangya, learning about cameras, and I want to do a big clean up (t/n: like a house clean up).
THE STAR: Any last words?
TAEYEON: Hooray for NERDY! Let's all go on together for a long time.
Source: The Star Magazine
Translated by @309KTYSS
Do not take without crediting!
---